Toyota Certified Advantage
Oldmac Toyota Certified Used Cars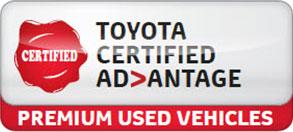 The better a product is made the longer it lasts and the more you enjoy it. So getting a high-quality Toyota at a great price is a very smart move. But getting a high-quality Certified Used Toyota at a great price is an even smarter move. The Toyota Certified Used Cars program is proof of our commitment to constant improvement and is setting the benchmark for peace of mind amongst those in the used car market. Not only does the Certified Used Car Program offer a range of benefits that no private seller could offer, it comes with the backing of Australia's most trusted automotive brand, Toyota.
Try getting a deal like this with a private seller.
Buying a used car from a private seller tends to be a frustrating, unclear and time consuming venture. To be thorough, you'll need to check your potential car's ownership and service history along with ensuring you have a trained technician give it a fine-toothcomb checking for any potential flaws which will cost you in the future.
Oldmac Toyota Certified Used Car Promise
Your guarantee of quality before you buy
Background Check
All Toyota Certified Used Cars are accompanied by a Certified Used Car Report ensuring you of everything you need to know about the history of the car you're buying.


Comprehensive Quality Check [P10]
Toyota's trained mechanics [P10] conduct an exhaustive quality inspection check [P10] for each car to determine if it's eligible for resale in accordance with the Toyota Certified Used Car Promise.
Finance [P7]
There are many benefits associated with Toyota Certified Used Cars and finance is no exception [P7].

Benefits for you after you buy
Toyota Statutory Warranty[P8]
Toyota Statutory Warranty [P8] is just one of the many perks associated with buying a Certified Used Car. Toyota strive to assist all Certified Used Car buyers in as many ways as possible.

Toyota Roadside Assist[P9]
Toyota Roadside Assist [P9] is available around the clock and is just a phone call away for Toyota Certified Used Cars. We take pride in the reliability and professionalism of Toyota Roadside Assist services.
Toyota Service Advantage[T1]
Low Capped Price Servicing is just one of the many benefits associated with the purchase of a Toyota Certified Used Car, providing peace of mind from unexpected service costs.

[T1] Maximum payable for standard scheduled logbook servicing (normal operating conditions) until first of 3 years or 60,000kms, whichever occurs first (up to the first 6 services). Excludes Government & Rental cars. Contact your Toyota Dealer or go to toyota.com.au/advantage for other exclusions, eligibility and full details.
[P7] Toyota Finance is a division of Toyota Finance Australia Limited ABN 48 002 435 181, Australian Credit Licence 392536.
[P8] Terms & Conditions:
Applicability of Statutory Warranty may vary for used cars sold in different States and Territories in Australia. You must check with your Toyota Dealer to determine what Statutory Warranty is applicable (if any). Any Statutory Warranty does not limit and may not necessarily exceed your rights under the Competition and Consumer Act 2010.
SA - Car must be over $6,000. $6,000 and under $200,000 kms - 3 month / 5,000 km statutory warranty.
*Some commercial cars are excluded from the statutory warranty provisions in some jurisdictions. Please see your Toyota dealer for more information.
[P9] Toyota Extra Care Roadside Assist is administered by Toyota Finance, a division of Toyota Finance Australia Limited, ABN 48 002 435 181, Australian Credit Licence 392536.
[P10] Reconditioning occurs only if the car does not already meet or exceed the quality standard.